Hydrafacial- the gentle treatment for your face
Hydrafacial is one therapy, which combines several treatment steps: from deep cleansing to peeling of the skin in order to achieve skin refinement.
The result is a better appearance through medical skin renewal. Small wrinkles, clogged pores, oily skin and acne will be painlessly and gently improved in just a few appointments.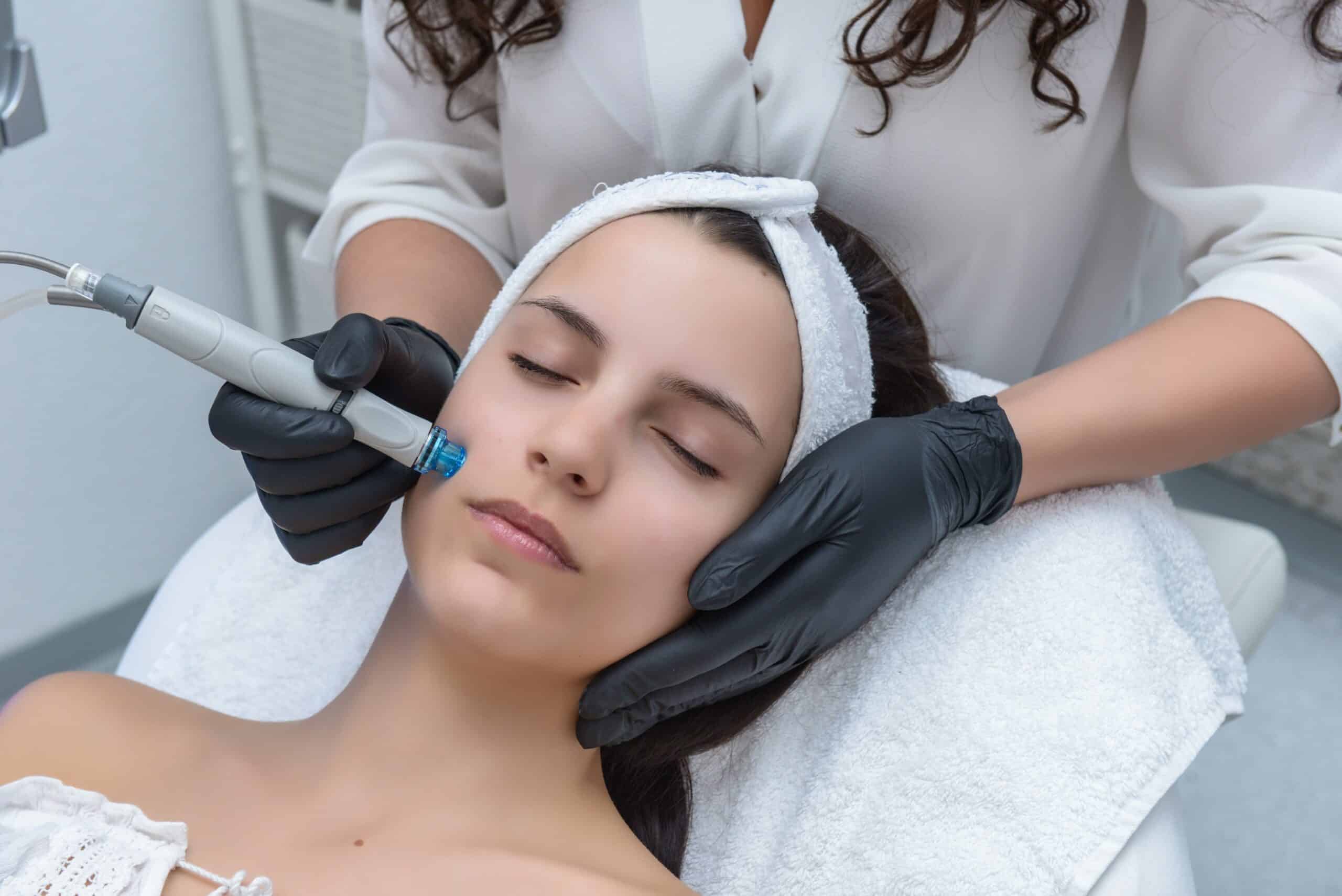 How does Hydrafacial work?
The Hydrafacial combines: Skin removal, deep cleansing, infusion of vitamins and cold light therapy.
The first step is a gentle glycolic acid treatment. This is followed by manual cleansing and the hydrafacial- treatment itself, where excess sebum and cream residue or make-up are removed by using negative pressure. At the same time, a serum cocktail with vitamins and minerals is infused into the skin. Finally, the skin is treated with intensive LED light.
Each of these steps is gentle and painless.
Immediately after the treatment, a shiny effect is visible on the skin, which disappears after a few days. The skin is radiant, soft and fresh.
Who is Hydrafacial suitable for?
Since the hydrafacial is a very gentle procedure, it is suitable for almost all skin types. The therapy is particularly effective for patients who want a comprehensive improvement in their complexion.
At what intervals should the treatment be performed?
The treatment depends on the clinical findings. However, for an optimal skin appearance, the treatment should be carried out at regular intervals.
A hydrafacial treatment is particularly suitable for the treatment of:
Acne Tarda (adult acne)

Acne Vulgaris (Adolescent Acne)

Antiaging

Treatment of small wrinkles

Oily skin

Skin with large pores

Skin texture improvement

Skin tightening

Hyperpigmentation

Perioral dermatitis

Pigment disorders (hyperpigmentation)

Rosacea

Sun damage

Hydration of the skin

Clogged pores
face 150€, back 180€ per session